Quality AKC French Bulldogs
Welcome to Joyful Noise Frenchies, LLC!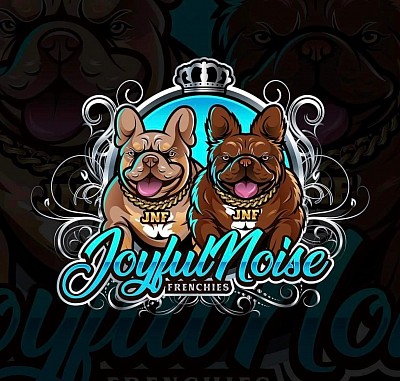 We are middle Tennessee's premier breeder of high quality frenchies with color, which includes FLUFFY! We were also just named one of the top 50 breeders in the US. We pride ourselves in the quality, health and temperament that our puppies have. We are located just approximately 2 hrs from Nashville and Knoxville on our 166 acre mountain property where we raise high quality, rare colored AKC french bulldogs. Our puppies are raised right with our family and are extremely well socialized. The quality, health and temperament of the dog always takes precedence over the color of the dog here, so we strive for structurally sound dogs, where their colors are just the icing on the cake! If you are looking for a high quality frenchie puppy to take a special place in your heart, you've come to the right place. The colors we can produce are blues, blue fawn, blue sable, blue and tans, blue cream, chocolate, chocolate fawn, chocolate sable, chocolate and tan, chocolate cream, Lilac, Lilac fawn, Lilac Sable, Lilac and tan, Lilac cream, in addition to Rojo chocolate, Isabella, new shade isabella, and merles in all of those colors. Along with 100% fluffy frenchies (they are 100% full frenchie, just selectively bred to produce longhair). Nationwide shipping is available, where we hand deliver your puppy with us in cabin, for an additional fee or we have a trusted flight nanny available. We are also on Instagram as @joyfulnoisefrenchies and Facebook at https://m.facebook.com/joyfulnoisefrenchies
Contact us here for information on getting your next frenchie puppy!
Nashville Voyager Magazine's Rising Stars
We were recently featured in Nashville Voyager Magazine and we're so excited! Check out the article
here
What We Offer
Quality Family Companions
Health Tested Sires & Dams
Lifetime Support
Comprehensive Health Guarantee
Delivery All Over the United States
​
Telephone: 724-262-2754
Email: joyfulnoisefrenchies@gmail.com 
© Copyright Protected Joyful Noise Frenchies LLC  2001-2022

No information and or pictures to be copied without permission from the site owner.
All rights reserved.