Nutrition & Wellness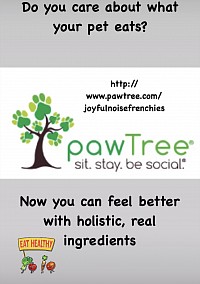 pawTree Pet Foods
Nutrition is so important for the health, vitality and longevity of your pet. We know you want them with you for years to come! That's why we recommend Paw Tree kibble for your dog's food. It is holistically balanced and provides the nutritional harmony that's important to help your canine achieve and maintain optimal health.

The formula that I recommend for both puppies and adults is the Turkey & Sweet Potato formula, this is what your puppy has been eating from the very beginning. I personally feed this food to all my dogs and puppies with great results. 
pawTree pet foods contain only the finest ingredients, like …

• A proprietary blend of vitamins & minerals
• High-quality proteins for strong muscles
• An antioxidant system including vitamins C & E
• Prebiotic fiber & guaranteed probiotics
• A selection of nutritious vegetables
• Omega-3 fatty acids for healthy skin & a shiny coat
• Calcium & phosphorus for healthy teeth and strong bones
• Dietary fiber to help maintain a healthy digestive tract

To be the best dry dog food, this premium kibble contains …

• No artificial flavors or colors
• No corn, wheat or corn/wheat glutens
Put your K-9 on the path to wellness to provide them with a recipe for a long and happy life.

To purchase your pawTree food or wellness products, please visit: www.pawtree.com/joyfulnoisefrenchies
You'll quickly see why we love this food so much and think it's the best thing next to raw that you can give your pet.