Our Passion For the French Bulldog ❤️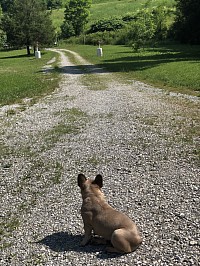 ...All roads lead to home...
A Little About US ❤️
 My husband and I got married in 2009, his family raised beef cattle his whole life and I raised and showed Persian cats for 10 years when I met him. We have over 50 years of combined animal husbandry experience between the two of us and we both have a passion for animals and pride ourselves in the loving temperament that all of our animals have. When someone has an animal of ours, they become part of an extended family as we love seeing updates and how they are maturing! We have a private facebook group where our Puppy families can share bragging rights on their puppies and interact with other families that have siblings of their puppies and I share informative articles relating to the health and welfare of the breed. We have puppies for sale a couple times a year. We moved to Northern TN in April of 2019, but we also have our original family homestead in the mountains of SW Pennsylvania where we go back home to visit about once a month. Thank you for visiting and God bless you and yours!